Each dish a work of culinary art. Each meal an experience.
Awesome Sushi!
Fresh. Well presented. Great service. We will be back!! I haven't had sushi this good in a very long time. Our new go-to restaurant.
TripAdvisor Review
Absolutely Phenomenal!
Was absolutely blown away with the quality of the sushi! Unbelievably good. Definitely would highly recommend to anyone planning dinner in NOTL with friends, families or couples.
TripAdvisor Review
New Japanese Gem in NOTL!
Great little Japanese restaurant, which recently opened in NOTL. Food great. Service excellent. Friendly staff. Well worth a trip.
TripAdvisor Review
Watching Chef Jay work, it's like watching a mix of an artist and an engineer, everything is so precise yet passionate.
Nic McCabe
Chef Jay Han uses such an amazing array of the freshest seafood you can find in Southern Ontario.
Chef Ti
I've spent my whole life avoiding sushi, just never appealed to me but they put it in front of me and it's insane how good it was!
Joe
Having had quite a bit of Chef Jay Han's cuisine I can say that his knowledge of Japanese cuisine is truly impressive. From his exceptional knife skills, high standards of preparation, to the artful elegance of his dishes, true lovers of world cuisine will have yet another reason to come to Niagara-on-the-Lake.
Carlo Robazza
For Chef Jay Han it seems to be all about the food! His food is so fresh, authentic and as real as it can get! I have tasted his fresh perfect fish served with rice that is seasoned and cooked like it was a science. It is a mind blowing culinary experience to sit at the Sushi bar and watch his knife skills. What a great talent and addition to the NOTL culinary Scene!!!
Paul MacIntyre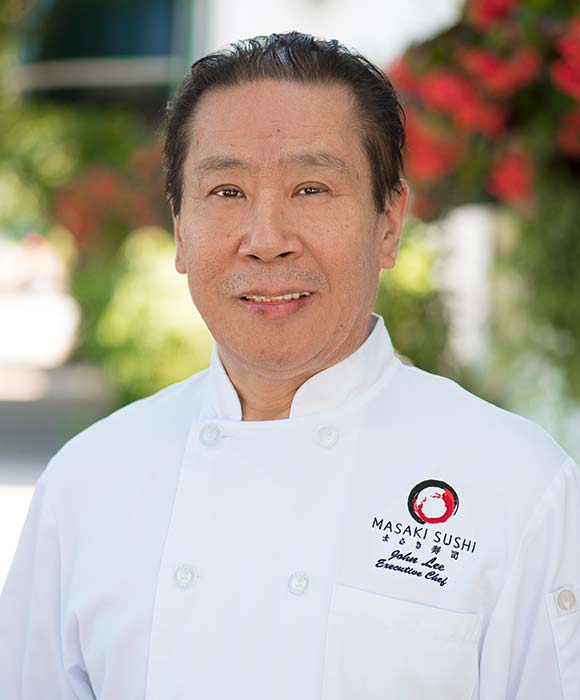 Chef John Lee
John is delighted to join the Vintage Hotels family as the Executive Chef of Masaki and have the opportunity to put his 25 years of culinary experience in Japanese traditional and contemporary cuisines to serve the local clients and visitors who come to experience the charms of the Niagara region. Passionate about serving quality dishes through innovative integration of locally produced fresh seasonal produce with a variety of catches from all over the world, he has won many fans and followers that span across Canada, Japan and the US where he has horned his culinary experience and built his reputation for serving quality sushi and authentic Japanese dishes.
Read More +
John started his culinary career in Montreal, first learning the very basics of how to wash and cook rice, scale fish, cut vegetables and make sauces. John ventured to the west coast of Canada where he was a chef and co-owner of a sushi restaurant, and on to Osaka where he mastered selecting the freshest fish and serving traditional dishes to well-heeled local regulars. John was recruited to join an internationally established sushi chef's new venture in Philadelphia where he contributed to its success while serving as a chef for several years. Before Masaki, John had his own sushi restaurant in the upcoming area of Toronto downtown for several years. As his reputation spread, including feature coverage in local news and magazines, corporate clients, film studios and hotels called on him to cater for their corporate banquets, special events and off-site functions.
John is charming and entertaining behind the sushi bar and around the dining room as he warmly greets local regulars and visitors to the beautiful Niagara region. The diners can taste his dedication for quality food and join in his passion for beautiful presentations. He devotes considerable time in continuously innovating his menus, while remaining authentic to traditional Japanese cuisine, to cater to evolving demands of local and visiting foodies. John also travels regularly to New York and to Japan to continue to expand his culinary experience and to share his crafts with other celebrated chefs and friends. John derives great joy in mentoring the new generation of chefs as many sushi masters have done for him. John and his highly skilled sushi chefs at Masaki will delight you with their high quality dishes and truly exceptional dining experience in a relaxed and elegant dining room.